High-waisted, with turn-ups, darts or a flat front, casual or contemporary, elegant or for everyday wear? Baker & Reed creates custom pants suitable for all and any occasion. Great customize your made to measure trousers according to your style for a wardrobe that is truly unique and original.
CREATE CUSTOM pants WITH BAKER & REED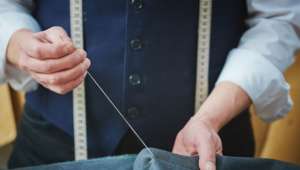 Lining
All of our custom-made trousers are lined to the knee, to reinforce the external fabric and enable easy movement when sitting down. To ensure a more thorough wash, the pocket bag is stitched externally to the lining.
Sartorial waistband split
As small as it is indispensable. Often mistaken as a manufacturing error, the sartorial waistband split is a piece of sartorial foresight developed by tailors over the years and is indispensable to increase the level of comfort and wearability of the trousers, whilst also preventing tearing.
A well-tailored suit is to women what lingerie is to men"

– Anon

Trousers hem binding
This is one of those small details that really make the difference in terms of the longevity of a garment. The trouser hem binding is in fact a thin strip of fabric that is internally sown into the hem of our men's trousers, to prevent the fabric from wearing over time as it comes into contact with the shoe upper.
Internal waistband extension
Looking for a sustained well-defined line? The internal waistband extension has it covered! The button+hook fabric system sown internally into the front of our tailored trousers, precisely above the flap, keeps the fabric taught for an impeccable structure all day long.
Belt loops
Belt loops are sown inside the waistband and reinforced by bar tacks. For suspenders, instead of loops, there are six internal buttons positioned on both front sides and at the centre of the rear.