Baker & Reed offers a choice of hundreds of patterns and colors and patterns in the finest of fabrics. You pick the one that's right for you based on your needs, your occasions, and your budget.
CREATE A CUSTOM Vest WITH BAKER & REED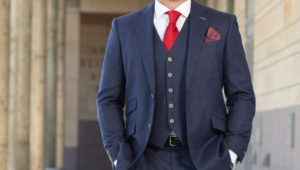 You'll notice our obsessive attention to detail from your very first appointment. But that's just the beginning. We're committed to the highest standards of quality craftsmanship for your garment in every way, from fabric and materials to construction, sewing, and tailoring. With Baker & Reed, only excellence fits.
"A man should look as if he had bought his clothes with intelligence, put them on with care, and then forgotten all about them."

– Hardy Amied
Baker & Reed makes quality vest that provides an extra degree of style to your outfits. It can be worn with or without blazer and it is a primary garment to combine with your suits on special occasions or in your daily life. You can choose a vest shade similar to your suit but it can also be a contrasting piece and try different combinations. You choose, Baker & Reed makes your vest made to measure. Design your vest and personalize it with all details.