A Baker & Reed custom-tailored dress shirts are pieces of tailored joy. A tailored shirt fits perfectly and enhances the silhouette, creating an elegant look in every occasion. You can personalize to the maximum choosing among multiple models of cuffs, and also a wide variety of collars, and as well as many types of buttons. This will make sure that each shirt reflects your personal style.
Create a custom Dress Shirts with Baker & Reed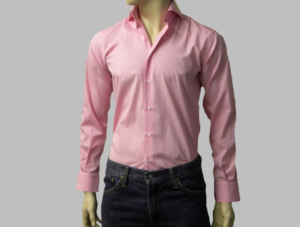 Construction
The seam with more than 7 stitches per centimeter and the small fabric triangles applied to the sides known as gussets, are synonymous with quality manufacturing and prevent your made-to-measure shirt from tearing.
Collar
The collar of a shirt is the most visible part when worn with a jacket, so it should come as no surprise that this detail determines the formality and style of your entire look. Our collars are available in different patterns, depending on the distance between the points: from a less broad Italian style to a more open French style. All Baker & Reed collars come with removable collar stays to keep the shape of the points and stop them from lifting throughout the day.

Cuffs
They barely emerge from your jacket sleeve, no more than a centimeter and a half of fabric. And yet in terms of style, they can really make the difference. Cuffs are one of those small details that can render a custom-made shirt truly fitting for a certain look or occasion. Customize your tailored shirt by choosing between 7 different cuff patterns, suitable for cufflinks or buttons.
Buttons
White or black with a thickness of 2 or 4 millimeters, you can customize your new shirt with the buttons of your choice. The use of traditional lily stitch is just one of the many details that adds a touch of sophistication to the garment.

"Clothes make the man. Naked people have little or no influence on society."

Mark Twain
Custom Tailored Shirts & Shirts
As our custom-tailored dress shirts are of premium quality and will stand the test of time. We are confident in the quality of our custom-tailored or fitted shirts. Baker & Reed's objective is to offer you a quality custom tailored shirt that is affordable and painless to order.
Custom Made | Quality Comes First
The problem with off-the-rack online shirts, apart from the inflated prices, is that these shirts won't fit you. They're made to fit everyone's build, whether boxer or butcher. But the problem is that you're not everyone. You're you, and you need a bespoke shirt tailored to your contours, whatever they may be. This leads us to made-to-measure shirts, also known as bespoke or custom tailored. Whatever term the shirtmaker uses, you can be guaranteed that buying your shirt a Baker & Reed tailor made shirt will leave you with a well-fitting shirt that you feel good in and that will serve you for years.